Fray Loves Threadless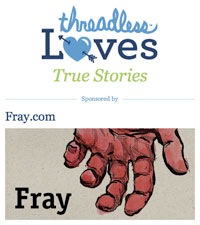 I loves me some Threadless, so it's a thrill to collaborate with them on Fray. Along with our buddies at Blurb and Stephen Tobolowsky, we're sponsoring a design competition: Threadless Loves True Stories. In addition to some great prizes and a pile of cash, the winning design will appear on a Threadless shirt and on the cover of Fray Issue 3.
For our third book, we're doing a special double issue tackling two of the biggest themes in life: Sex and Death. We're looking for illustrations that take on one or both of these themes in a breathtaking design. Submission tips: The best designs don't literally illustrate the theme, they play with it. The cover of the "Busted" book, about getting caught, featured a red hand. (Get it?) You can include words (sex, death, Fray), but it's not necessary. The design can include both themes or just one. If you need inspiration, just think about a time in your life when you lost someone, or got some, and go from there. And most of all, have fun!
To submit to the contest, go here. Story submissions will open in July.