The New New Thing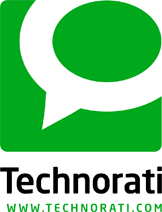 Seven months ago, when I told my friends and family that I'd taken a job at Technorati, they all had one thing to say to me.
Cool! But, um, what do they do?
These people weren't rubes. My tribe are some geeky folks. Bigtime bloggers, hardcore nerds, and computer-enabled professionals all asked me this. And translated through my filter it said one thing loud and clear: Houston, we have a problem.
I answered their questions as best I could, but I decided then and there to make it my life's goal to do everything I could to make it so that I never, ever have to answer that question again. The site should explain what it does, not the people who work there. Today we took the first step toward that goal and released the new Technorati beta.
This is a huge revision to the site, and the product of some of the most talented people I've ever had the pleasure of working with. I'd especially like to call out Jason DeFillippo who was literally coding with bandages on his fingers, and Ben Jenkins who came on a month ago and has been our ace in the hole ever since. Thanks also to CSS jedi Eric Meyer and illustrator extraordinaire Chris Bishop for lending their talents. And of course the real heroes are the engineers and ops crew who make it so people like me have something to design at all.
But enough with the acceptance speech. There are a ton of changes in the new site. In fact, just about every bit of frontend code has been rewritten. And all toward the goal of making the blogosphere more understandable, more fun, and more accessible to people who don't even know what a blog is.
I'd say more, but right now I'm so tired I'm literally about to fall over. So just go check it out. And, of course, that "beta" slug up there is on purpose – we're still working the bugs out and there's lots more in store. But please do check it out and be sure to let us know what you think.
And now I must sleep.